This is my first blog about one specific wedding, and it won't be my last.  This one was special in so many ways, the couple, the location, the ceremony…
FIRST, the location.  What a dream venue.  If you haven't been, check out Drakewood Farm!  (https://www.drakewoodfarm.com/) The couple (Arline and Doug), that own the venue were previous wedding photographers.  Hands down, any venue owned by a wedding photographer is always awesome.  And trust me, I have worked at a lot of wedding venues.  This place was beautiful, multiple bridal suites decorated with antique furniture, a 1940's kitchen, a man cave for the guys, the wedding in the woods location was breath taking.  And then there are the barns, lighted covered bridge, tree swing – all of it!  You could spend all day there and not take a bad picture.
And to top it off, the staff was fantastic.  Lizzie, Mackensie, and Bekah were simply great, these ladies had it down; running the rehearsal, moving people around in golf carts, making sure the guys had their flowers pinned on.  They nailed it!
Now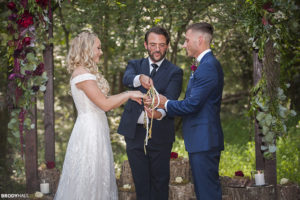 on to the SECOND part that made this day special, the ceremony.  Covid Sucks!  We all know it…  And for this couple, there was no exception.  So, despite it all, they actually got married the year before, just a small elopement with all the virus restrictions in place.  And that made this ceremony so much better!  No pressure, just fun!  It was the couple's one year wedding anniversary and the groom's father performed the ceremony.  Why yes, I think we will have a Norse inspired wedding!  SO MUCH FUN!  I loved the hand fasting, the deer skull, the braided hair.  Perfect!  The bridal party was their close friends that drove in from all over the country to celebrate with them.  And of course, Stella, their German shepherd was included.  I got so many beautiful images.
And finally, the THIRD reason this wedding was amazing, the couple!  Both, Mackenzie & Austin are active military, serving in the United States Army (along with several of their bridal party and guest).  This couple was WONDERFUL.  Everything you could want in a bride & groom…fun, crazy, dancing monsters!  She was stunning, from her Norse braided hair, to her amazing wedding dress, to her AWESOME reception outfit.  Her dance moves were epic.  He was "da man", no doubt, his suit and tie, boutonniere, and rugged good looks made for some wonderful photos.  This guy knows what life is about and enjoys it.  You gotta love fun couples, they just make it so easy to take pictures.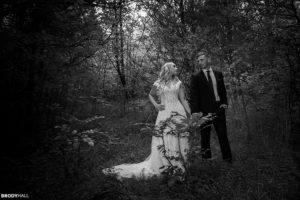 The love, laughing, dancing, and playing…it was an incredible evening and I just want to thank them for letting me be a part of it.